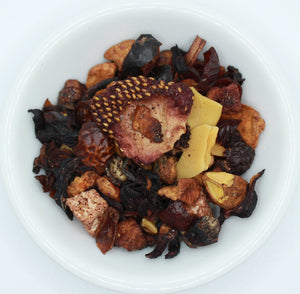 Sassy Strawberry Macaroon - Germany
Since we can't all fly to Paris for Macaroons, we bring you this delicacy of a blend full of fruity strawberries, creamy nuances and light, nutty notes. You can almost smell the scent of freshly baked Macaroons. This one is dreamy & sassy!
Ingredients:  apple pieces, hibiscus blossoms, rose hip peel, sliced almonds, flavoring, almond pieces, freeze-dried strawberry pieces, freeze-dried strawberry slices, lavender (2%), freeze-dried strawberry yoghurt crunchy (sugar, skim milk yoghurt, starch (tapioca), strawberries, natural flavouring, black carrot juice concentrate, acidifying agent: citric acid).