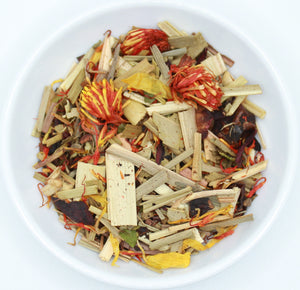 African Shaku Shaku - South Africa/USA
Inspired by a hot climate comes this African Shaku Shaku herbal creation. It's a unique blend of honeybush, a smooth-tasting relative of rooibos with a zest of citrus and rosehips.  Satisfyingly refreshing on a hot day & caffeine free!
Ingredients - honeybush, lemongrass, lemon myrtle, rose hips, eucalyptus, hibiscus, safflower, marigolds, and orange.
Allergen: Hibiscus may be intercropped with peanuts. Occasionally, fragments of peanut shells may be present. 
*We recommend that you consult with a qualified healthcare practitioner before using herbal products, particularly if you are pregnant, nursing, or on any medications.