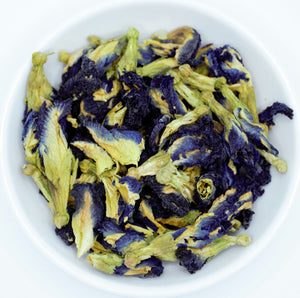 Butterfly Pea Flower Powder - Southeast Asia
Ground into a fine powder, vine grown and regarded as having a long list of Ayurvedic healing properties. Similar to green teas, it is rich in antioxidants, naturally caffeine-free, and packed with the catechin EGCG (epigallocatechin gallate) along with anti-inflammatory and immune-boosting elements such as flavonoids, tannins, and polyphenols. Butterfly Pea Flower Tea brews up to be a lovely bright blue color. If you add an acid -- like lemon/lime juice -- to the brewed tea, the color changes from blue to purple.  Magical little flower!
*We recommend that you consult with a qualified healthcare practitioner before using herbal products, particularly if you are pregnant, nursing, or on any medications.