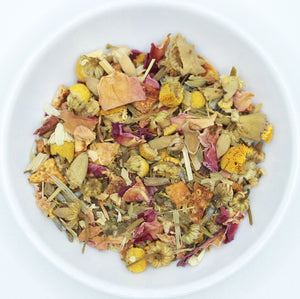 Feeling Good Flower Tea - USA
A spirit-lifting scent of chamomile & oatstraw followed by a robust smell of roses, boosted by the bouquet of citrus zest. A colorful herbal, feel good tea that finishes with the lively scent of lavender. 
Ingredients:  Chamomile, rose petals, orange peel, oatstraw, lemon balm, lavender, stevia
*We recommend that you consult with a qualified healthcare practitioner before using herbal products, particularly if you are pregnant, nursing, or on any medications.