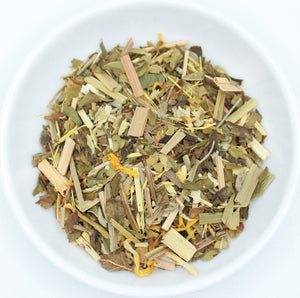 Get Smart - USA
This tea blend will stimulate your mind and your taste buds and may help focus your mental abilities while arousing the body's energy.
Ingredients:  Peppermint, gotu kola, ginkgo, lemon grass, ho shou wu, eleuthero root, licorice, damiana, and calendula.
*We recommend that you consult with a qualified healthcare practitioner before using herbal products, particularly if you are pregnant, nursing, or on any medications.