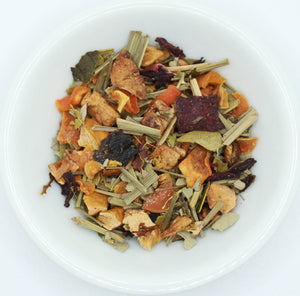 Grapefruit Orange Wellness Blend - Germany
This creation carries a mild fruity sweetness from the apple pieces and carrot flakes with a touch of freshness from the eucalyptus leaves, lemon grass, tangerine bits and a nuance of hibiscus. Beetroot pieces color the cup and give it a slightly earthy note. The dried orange slices add a fresh citrus flavor of this absolutely perfect composition. Winner of the 2007 World Tea Expo Iced Tea Competition!
Ingredients: Apple pieces, carrot flakes, blackberry and eucalyptus leaves, freeze-dried beetroot pieces, hibiscus flowers, lemon grass, flavoring, freeze dried tangerine and orange pieces.