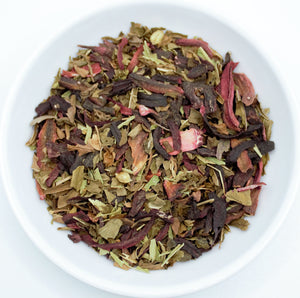 Hibiscus Mint - USA
The lightness and freshness of mint amongst the hibiscus blend to create this magnificent herbal tea. The floral notes of hibiscus blossoms are relaxing, while the mint produces a feeling a freedom.
Ingredients: red hibiscus petals, green leaves, & peppermint
Allergan:  Hibiscus may be intercropped with peanuts. Occasionally, fragments of peanut shells may be present. 
*We recommend that you consult with a qualified healthcare practitioner before using herbal products, particularly if you are pregnant, nursing, or on any medications.