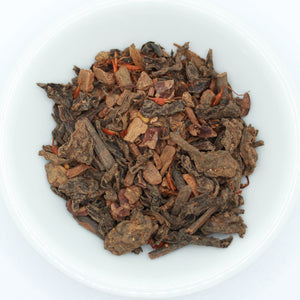 Majestic Eagle Pu-erh Organic - China
Spice up your palate with this rich, exotic blend of cinnamon-drenched chocolate, elevated by the warming kick of spicy chili flakes and grounded by the rich, earthy character of puerh tea. CHOCOLATEY, EARTHY, SPICE!

Ingredients:  Puerh, Cinnamon, Honey Bush, Cocoa Nibs, Safflower, Chili Flakes, Ground Chocolate (sugar, cocoa processed with alkali, unsweetened chocolate, soy lecithin), natural flavors.  
*Please be advised that Gold Leaf Spice & Teas, Inc may contain or come into contact with peanuts, tree nuts or other allergens.  Some teas may contain nuts and are not suitable for people with nut allergies.  This product may contain the following allergenic ingredient(s):  Milk, egg, tree nuts, wheat. Contains soy lecithin- not classified as an allergen according to the FDA