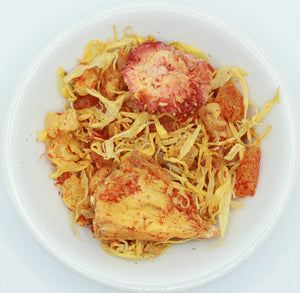 Mango Garden - Germany
An extraordinary fruit tea blend! Extra-large flakes and cubes of juicy, exclusively exotic fruits. This artful taste is enhanced by a particularly sweet and fresh flavor combination. A very delicious tea, which will outshine many other juice drinks. 
Ingredients: pineapple cubes (pineapple, sugar), mango cubes (mango, sugar), pineapple and mango flakes, orange slices, flavoring, freeze-dried tangerine-orange pieces, safflower, marigold blossoms, freeze-dried strawberry slices.