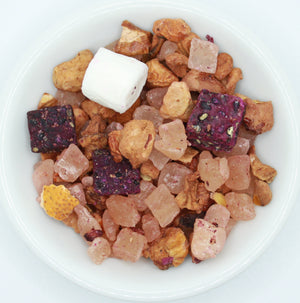 The Pink Holiday - Germany
This low in acid fruit tea is sure to seduce every sweet tooth on the block with its scent of sweet candy floss and fruity, ripe raspberries.  It's a sweet candy fairytale in a cup.
Ingredients: pineapple cubes (pineapple, sugar), apple pieces, lilac dragon fruit cubes (dragon fruit, rice flour), marshmallows (glucose-fructose syrup, sugar, water, gelatin, corn starch, natural flavoring), natural flavoring, freeze-dried raspberry pieces.