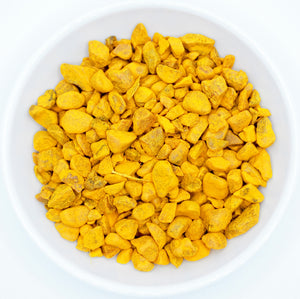 Turmeric Root Chips - India/Southeast Asia
A plant in the ginger family, Turmeric supports healthy join mobility & is an important herb in Traditional Chinese Medicine and Ayurveda.  It is considered energetically hot, mildly pungent, and is slightly bitter.  Its main constituent, curcumin, is thought to be responsible for many of the wellness supporting properties & bright yellow color turmeric provides.
*We recommend that you consult with a qualified healthcare practitioner before using herbal products, particularly if you are pregnant, nursing, or on any medications.